The birth of a child is always a miracle. And every little person is so unique and perfect. Or, as I like to say: spot on! When I recently became an aunt for the first time, it was clear that I definitely wanted to knit something for my little nephew. Because, for me, hand-knitted gifts are the most beautiful. Full of love, individual and very personal.
Of course, there are also beautiful children's clothes to buy. But when I knit myself, I not only have the choice of colours and models, but I can also choose the material I want in the best quality. And for my little gold child, of course, I chose the gold standard. What do I mean by that? I simply had to knit with our merino wool. Because it's perfect for baby clothes. Not only because it feels so wonderfully soft and cuddly and doesn't scratch at all. But above all, because it is absolutely safe for sensitive baby skin - and for our planet. Because all our yarns are GOTS-certified.
What is GOTS?
GOTS stands for Global Organic Textile Standard, the "gold standard for the sustainable production of clothing and textiles from organically grown fibres, such as organic cotton or organic wool". To be allowed to use the logo, the product must contain at least 70 % organic fibres. In addition - to create truly sustainable products - the entire processing chain must also meet strict requirements. GOTS defines these. For example, to protect our health, GOTS prohibits the use of chemicals that are commonly used in textile processing and can cause cancer and other serious diseases. Only the use of tested, harmless chemicals is permitted. GOTS also focuses on the correct waste water treatment and the reduction of energy and water consumption. In addition, strict social requirements must be met. Importance is given to safe working conditions, ethical business practices and fair payment, while discrimination and child labour, for example, are not permitted.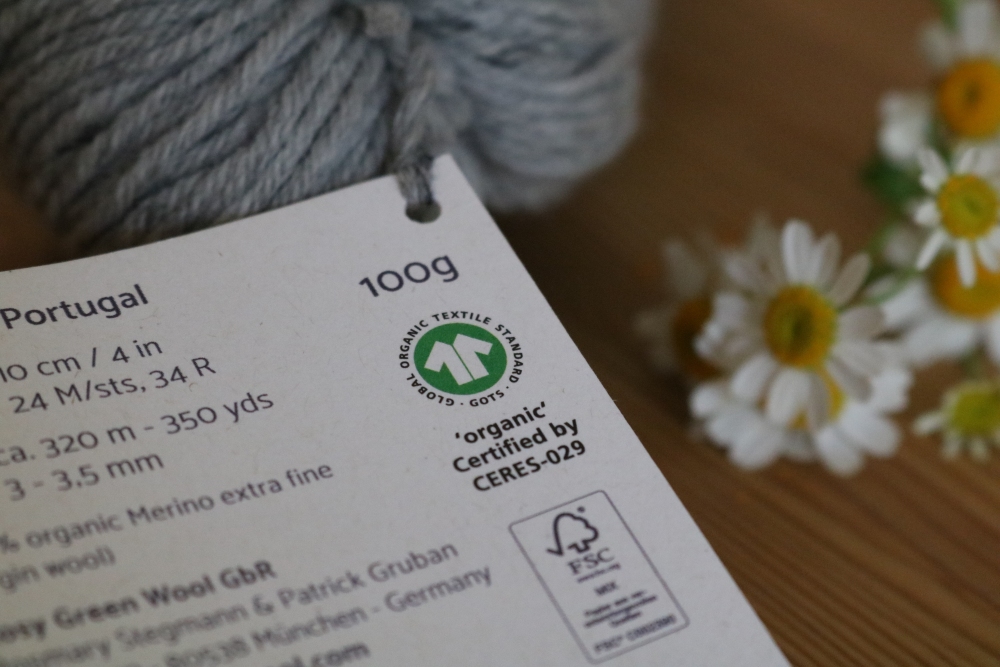 Of course, independent auditors regularly check all these criteria for compliance - with and without prior notice. Only if all participating companies along the processing chain can present a valid certificate and have passed the annual on-site inspection does an end product receive the GOTS label. Thus, GOTS guarantees that we are choosing a good product that has been produced in an environmentally friendly and socially responsible way. All certified companies are listed in a public database and can be found there by means of the licence number. As an independent certification, the Global Organic Textile Standard is recognised on the most important sales markets worldwide and thus makes it easier for us to buy sustainably in the textile sector.
Why did we choose GOTS?
When Rosy and Patrick founded their company in 2012, besides all the aspects mentioned above, one thing was very close to their hearts: They wanted to produce soft merino wool from happy sheep. That means: guaranteed mulesing-free, without chemical sheep baths or long slaughter transports. To ensure this, they decided - as pioneers at the time - to source their wool exclusively from controlled organic animal farming. And the strict monitoring by GOTS guarantees just that. And for us, uncompromisingly: all our yarn lines are 100% GOTS certified. So is the entire value chain, from the organic farm, through the washing, spinning and dyeing process, to us as a company, our consignor and our distributors.
Lovely things for golden children
So knitting with our yarns for babies feels just right. Because for my nephew and all the other little miracles, I want them to be snug and warmly wrapped. That they feel the cuddly softness and love. That their delicate skin is not exposed to dangerous chemicals. And that they grow up in a world where people, animals and our environment are treated with respect - so that they get the chance for a good future.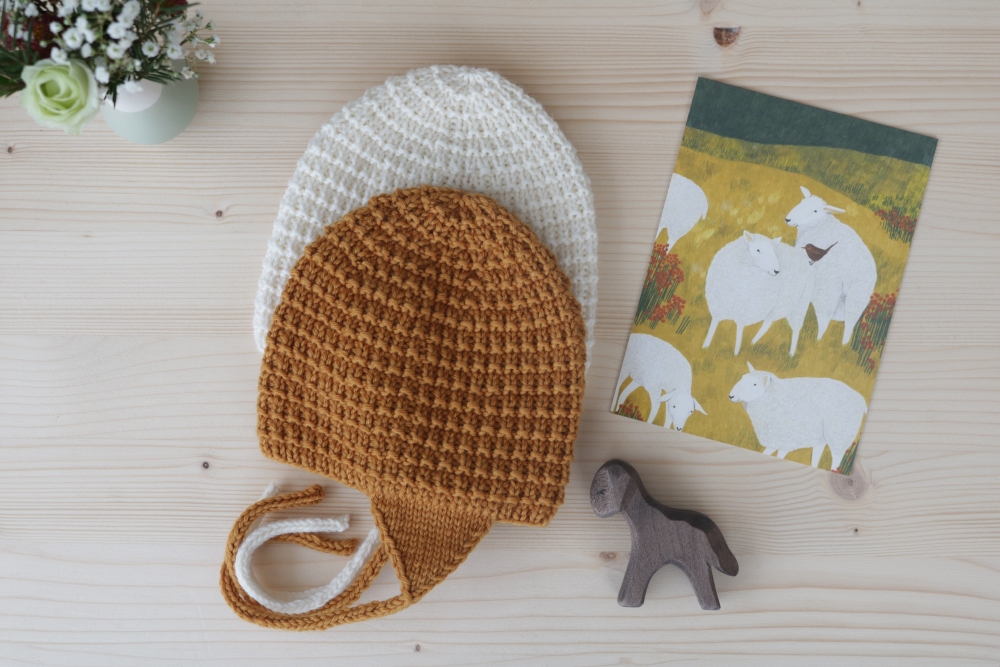 My sister was very happy about the two sets. I knitted the Little Sisters Romper by Petiteknit with leftovers of our Big Merino Hug in the colours Garden Pond and Laguna (a colour from the past that is no longer available in our shop). The two baby hats (instructions from the German book Klompelompe) are made from Cheeky Merino Joy in Edelweiss and Lovely Merino Treat in caramel - really cute!