"In the sky, the stars are twinkling. It's bitterly cold. On the lonely old farm, everyone is sleeping now, everyone except one - Tomten." The story of Astrid Lindgren's Tomten accompanied us through the uncomfortable month of November last year. And while my children took the lovable little troll, who always hides well from people, into their hearts, an idea came to me: This December, a little elf could move in with us, too.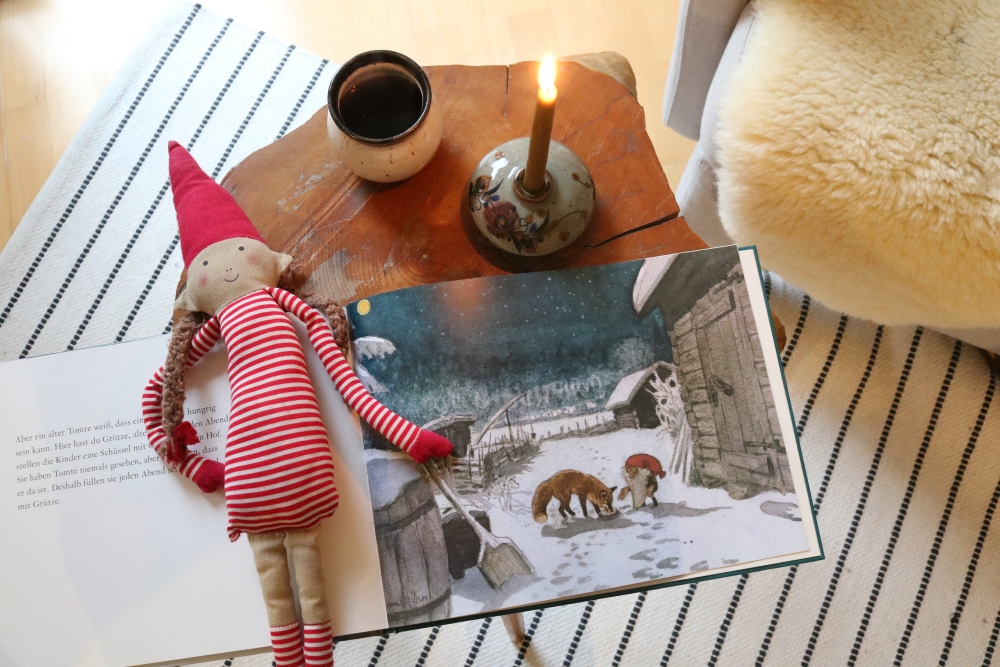 So I made sure - just in time for the night of December 1st - that an elf set up a home in the corner behind our kitchen door. I attached the small red door from the dollhouse, which had fallen off anyway and should have been glued long ago, to the wall with a power strip. The elf nicked a table and a bench from the nursery, a small fir was found in the decorative box, and in no time, I had made a pennant chain from colourful Washi tape. The miniature elf world was ready without any costs or great effort.
The only thing I needed now was some ingenuity. The idea was to make it look like the elf would regularly come to our kitchen from now on - without the children ever seeing him, of course. After all, he didn't exist. There was only me, my ideas and the wonderful imagination of my children painting a glowing picture.
For now, the arrival of the elf was enough. It took a while until the children became aware of the small furniture behind the door. But then, they were astonished. "Look, Mum. What's that?". Questioning eyes, disbelief. "That table looks just like the one in my dollhouse. And the door, too." - So we went to check. Sure enough, it was all missing from the nursery. "Was that you, Mum?" - "What, me? No! That looks more like a Christmas elf has moved in with us". Conversations of this nature now took place daily between my daughter and me.
Some days, the first thing the kids did was check to see if the elf had come back to visit overnight. Even before they ran to their knitted Advent calendars to plunder another little bag. The story of the Christmas elf was very real to them. At one point, he had nicked a plate from the dollhouse, and my two little ones found crumbs from one of our homemade gingerbread cookies on it. "I think the elf likes to snack too". So they put some chocolate from their advent calendars on his little table. Of course, it was gone the next day. Instead, they found a little letter in which the elf thanked them for the fine treat.
Another morning, there were crumpled tissues on the table, and we were all very concerned because the elf seemed to have a cold. We nursed him back to health and were happy to see a sign of life soon after. He had started to knit during his bed rest!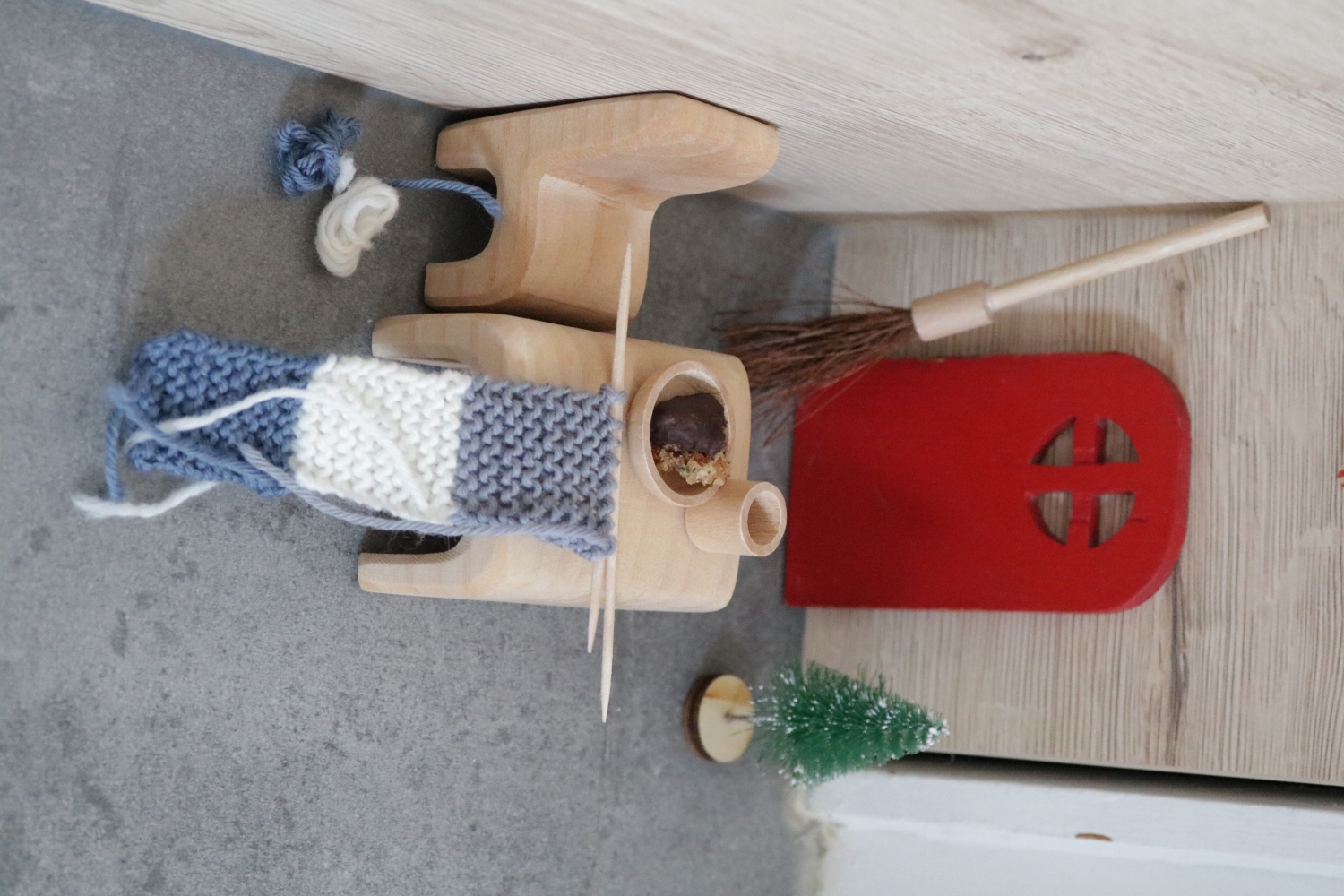 Two toothpicks served him as knitting needles, and he diligently helped himself to my leftover yarn. "Oh look, Mum, the elf can knit! Just like you!" - "Did he steal wool from me? What a rascal...". So over the next few days, a little knitted scarf grew, and we puzzled over who the elf was knitting it for.
On the morning of Christmas Eve, it was tied up with a bow on his table and was actually a gift to my daughter's little elf doll. Oh, how happy she was! Then our elf - just as secretly as he had come - quietly left again.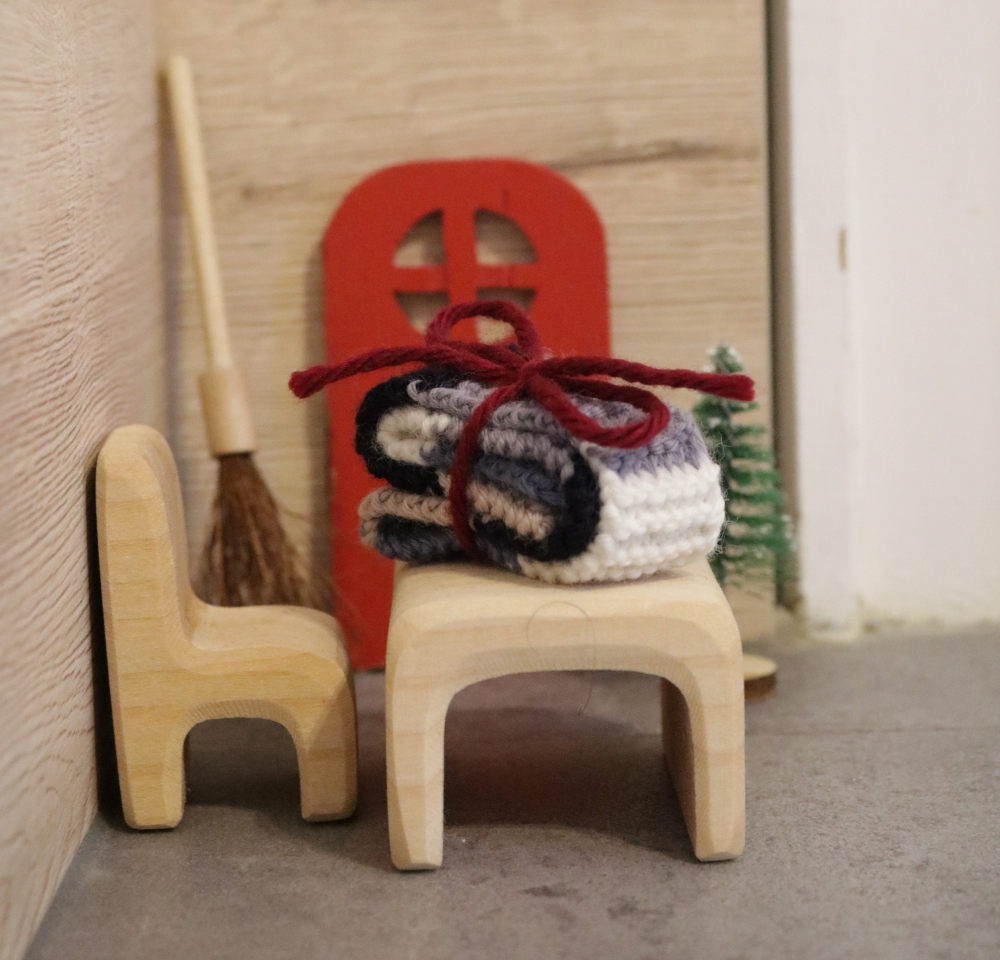 I wonder if he'll come back this year. "We've moved. How would he know where to find us?"
How wonderful that the children liked the Christmas elf so much. It's so easy to make a magical Christmas with a little imagination, a few accessories and some wool scraps. While candy never survives long, the stories and the tiny knitted scarf are still with us today.
I just heard the elf whisper: Happy Knitting, and see you soon!