"Voucher for a handknitted sweater." I wrote this on a beautiful card and solemnly presented it to my husband at Christmas. He was over the moon about it. After all, something knitted by your loved one is always very personal and unique. He was even more delighted when I announced that I would finally redeem the voucher. More than two years later. Fortunately, my husband is a patient man and always had been very understanding when cute children's knitwear or a new favourite piece for myself got in the way. Nevertheless, now it was really time to get started.
My husband already knew what he wanted: an Anker's Sweater in "boyfriend size" so that he and his children could wear matching clothes. Because the designer Mette Wendelboe Okkels from PetiteKnit has published these patterns in baby, children's, women's and men's sizes. So I ordered a few skeins of Lovely Merino Treat in his favourite colour, Red Beech. A familiar, simple tutorial with a beloved soft yarn, 4 mm needles and lots of stockinette stitch - a relaxing knitting experience on the sofa, I thought. I had no idea then that this sweater, of all things, would take on a very special meaning for me. I was knitting for my husband and my soul. Now the sweater is finished, fits perfectly and he really likes it. A story with a happy ending.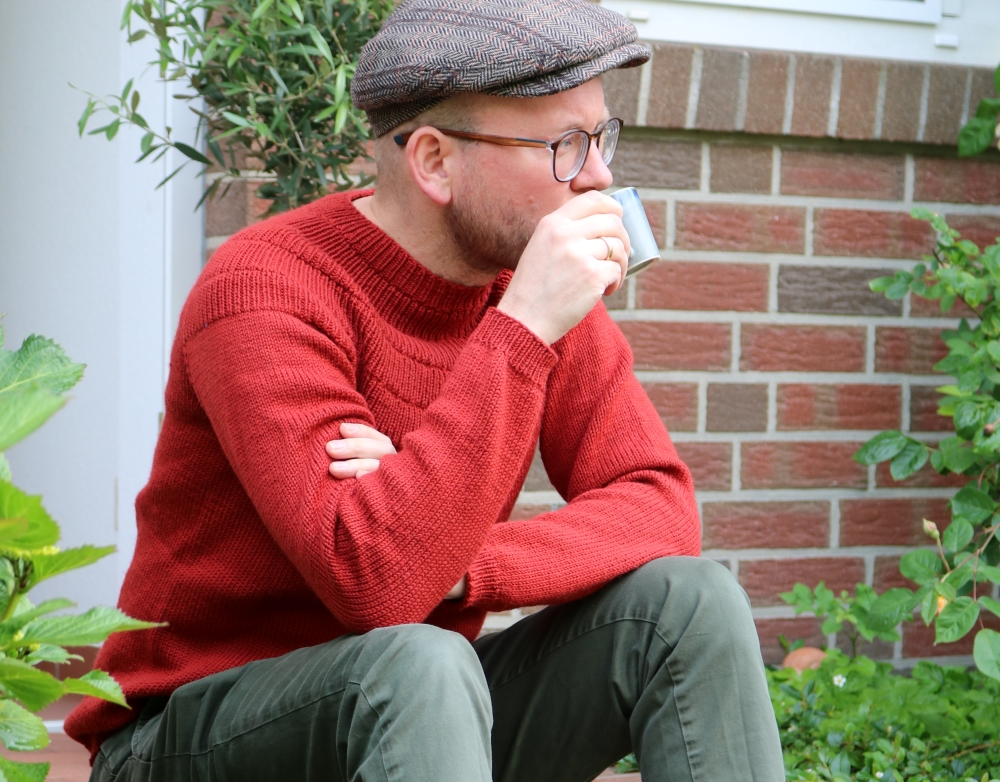 But a question popped into my head, which I asked at our next team meeting: Why are there no designs for men at Rosy Green Wool? The explanation is simple and understandable at the same time: It is mainly women who knit with our yarns, and mainly for themselves. Thus, the demand for knitting instructions for men is too low for the additional costs for the photo shoot with a male model to be worthwhile for our small company.
But then a friend told me how she knitted her first jumper, Hamble by Isabell Kraemer, and it turned out much too big for her because she hadn't washed her gauge swatch. This led to her husband - unlike mine without any waiting time - getting a beautiful jumper as a present that fitted him perfectly. Some of our sweater designs, namely the straight cut ones, are obviously also great for men. And many patterns look good on everyone - regardless of gender. My friend's husband has been wearing his Hamble a lot and with pleasure for more than two years.
Our sweater patterns come in nine different sizes, so you're sure to find the right one for your husband, father, brother or friend based on the measurements given. Or - maybe some knitting men are reading along here - for yourself.
The Neona sweater would work just as well for men. It was also designed by Isabell Kraemer and, like many of her designs, has a casual, straight cut. Kairaku by designer Eri Shimizu is also a unisex model, as Miriam Sandrejova writes on her Instagram account and shows beautifully here:
She also likes to photograph shawls with male models. After all, it's all a matter of imagination and taste. If you feel like knitting a sweater for your favourite person, share a photo of them wearing it on Ravelry or Instagram to inspire others. And as a little tip: A voucher for a handknitted sweater is always a great last-minute gift. ;-)